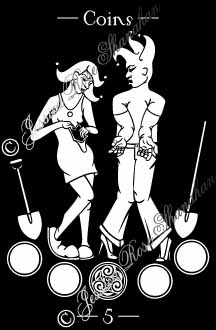 Isolation. Insecurity. Worry. Financial loss. Poverty.
Perhaps I was a bit cynical when I drew this card and, to be honest, I'm not sure how much I like it. Maybe I was mean…
Some people have the attitude that if you're poor or you can't get a job, it's your own fault. You don't work hard enough. You're not smart enough. You made dumb investments. You never invested. You squandered your money. You need a better education. You work for a non-profit. You don't use the latest technology. You make your own luck and you, looser, you don't know how. You're poor and it's not my fault so I'm going to pretend you don't exist even if you live next door.
Who is someone else to tell you what's wrong with your life? Your actions are indeed your responsibility, but whose fault is injustice and malchance? You're overeducated. Companies are only hiring people who already have jobs. You have no connections. You're brilliant, but socially inept. Your boss fired you because you were pregnant. Your work was bulldozed. The government funds large corporate entities, enabling them to sell their goods at a price that would otherwise be a loss while you, small businessperson, are left trying to sell your goods for what they're worth and nobody buys. Your talents have become obsolete. You are too old. You are disabled. There are not enough jobs. There are too many people.
I tried to illustrate a way out for this troubled couple: if they would just stop looking in their empty purses, pick up their shovels and work, they'd be fine. Unfortunately, this is not always the case. Sometimes we dig and dig and dig and after all that work, all we have is a hole. Sometimes, the only way to keep this hole from becoming a deep pit of despair is faith. I have illustrated foolishness, but I have failed to illustrate faith.