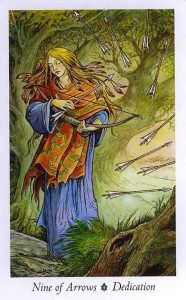 Artist: Will Worthington
Authors: Mark Ryan & John Matthews
The authors place arrows in the element of air, thus making this card correspond to the Nine of Swords in the Marseille Tarot.
The book written for this deck lends itself to personal-insight readings more than readings about others. If I want personal insight about my relationship with another person, that is one thing. If I want to gain insight for another person, that is impossible. I am not a psychic and cannot see into the other person whatsoever, even if I feel perfectly capable of offering options on what someone might do in a given situation. No matter how much advice we give each other, change must always come from within. It takes insight to turn knowledge into wisdom. I do not believe in wielders of psychic magic, able to find all answers in the cards. I do believe there are many ways of gaining insight. Although another person may help you gain insight, there is no one who can give you insight but yourself.
I bring up this point because I don't think this card would be useful for the person for whom I pulled it. Sometimes people don't even want insight. Sometimes too much insight is too much and it needs to wait. Sometimes people want escape. Sometimes escape is necessary. Insight can come later.
That said, I will go on with the authors' interpretation of this card. "The spiritual warrior dedicates their arrows of inspiration by playing the bow as an instrument of summoning. The inner oath helps keep one on a balanced footing by dedicating skills to a greater good."
In a few words, this card asks us to heed the calling of the spiritual warrior and defend the soil to leave a living (as opposed to sterile) legacy for our children. It suggests a daily ritual as a reminder-oath to conserve and protect the environment. Some people dedicate their lives to such a calling, some their lifestyles, and some a few minutes a day at most. We can all do more; it is a matter of dedication and desire.
The Nine of Blades is often called the nightmare card. I have spent much time seeking wisdom through my overpowering nightmares and thus choose to call the Nine of Blades the card of the prodigal dreamer. The keyword on this card is "dedication." It takes great dedication to turn a nightmare into a dream. What is the strength of your dedication? Are you still fool enough to see this nightmare as a dream?