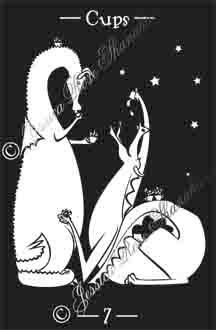 Fantasy, illusion, imagination, wishful-thinking, choices: these are the meanings of the Seven of Cups. Fantasy represents something unattainable or unrealistic. Illusion is seeing something in the world that is not there. Imagination is useful for coming up with things that have never before been done: new solutions to problems or representing things in a new manner. And wishful-thinking often results in poor choices.
 •   •   •
I showed the picture to an acquaintance named Joe. He asked what it was about.
"Fantasy," I replied, succinctly.
"Do you always fantasize about dragons?" he asked.
I shook my head and frowned. "No, never."
He didn't get it, and he wasn't interested. He wasn't interested in what went on in other's heads and how they viewed the world. He wasn't interested in symbols and meanings that were different than his own. It was pointless to argue or explain anything to him. He had majored in philosophy long ago in college. It seemed the outcome of his education was the philosophy (Fantasy—? Illusion—? Imagination—? Wishful-thinking—? Choice to believe—? ) that if he argued long & hard enough with someone, he could always bring that person around to see the world in the righteous way of Joe. A person could tell him a story from their own life and if Joe didn't believe it, that person was wrong. I never argued with him or explained myself. It was pointless.
People generally use imagination to fantasize about sex or coming into money or sex or building a huge addition on their house or sex or throttling their boss or sex or drugs or a cigarette or being famous at whatever, and these things are all more or less realistic, tho at times highly improbable. All fantasy is based on reality, even fantastic worlds in works of fiction. The more fantastic a created world is— made-up words, different forces of gravity, never-before-described beings, strange customs, etc.— the more difficult it is for others to relate to that world. In order to be able to appreciate something, we need to be able to relate to it. 100% pure fantasy is actually hard to come by. Abstract art is close. This is why extreme abstraction in art took a while to accept: society did not have a basis on which to relate to the artist's imagination. With years of practice, we're coming around.
Have I ever fantasized about dragons? No, never, tho I'm sure plenty people do. I used to fantasize that I owned a flying horse who would come down from the sky when I called his name. I would run to him and he would carry me up in the sky, far, far away from school. As the years wore on, it became more and more difficult for me to imagine unrealistic things like growing wings and walking on air. I grew up.
My fantasies turned to somewhat realistic things that I wished to attain. My imagination tumbled over creative ways to achieve my goals. This is a mature use of imagination. Making the same mistake over and over and imagining we're getting somewhere; thinking we can always win an argument if we just argue long enough; believing we have the one and only correct view point; remaining captive to addiction and thinking it does not harm us; and generally falling prey to intoxication and escapism is immature use of imagination.
I chose to draw dragons because I see dragons as representational of fantasy. Dragons sitting around drinking tea with politely lifted pinkies? Pure fantasy, impersonal, and kinda sweet.