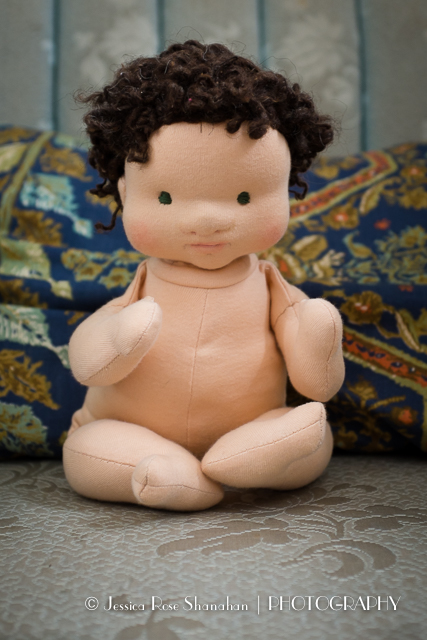 I finished another dolly. I bought a rather expensive pattern because I wanted to learn how to felt-sculpt facial features. I had to alter the pattern a bit to make it work, and I'm still not quite happy with it, but I really loved felting the features. Sinead has soft cotton skin, fluffy wool stuffing, and a pebble-bag butt for weight.  Martin named her before the three-plus hours I spent crocheting her wig. Her wig is epic.
Way back in the early-mid 1990s, Cate went to Nepal and bought a yak-hair sweater. The average yak does not take weekly shampoo baths. The yak whose hair made said-sweater was no exception. The yak shearer also did not wash the yak's hair. Nor did the yak-hair spinner. Nor did the yak-sweater-knitter. Nor did the knitted-yak-sweater-salesperson. Nor did said purchaser of said knitted-yak-sweater. The recipient of the sweater, however, was (an is) an exception to the rule. She washed the sweater.
Mom will have to come in here to comment and let us know how long it took her to clean, unravel, and wind that sweater into nice balls of yak-hair yarn. I'm thinking maybe twenty hours, minimum. Then she put it in a nice, transparent moth-proof bag and set it on a shelf to admire for 20 years. Before agreeing to give me the yarn, Mom made sure I was appreciative of her work. I am. The wool is absolutely perfect.
The yarn is a nice natural brown color, rather unevenly spun with occasional knots, and a bit curly toward the center of the ball. I used the outside of the ball to crochet a skull-cap for Sinead, then pulled from the inside to make her curls. It took at least three hours to make the wig. When she was finished, Martin said, "She looks like you."
Sinead does not yet have clothes. However, she does have a fitted cloth diaper and a felted wool soaker complete with felted and embroidered kitty-cat applique on the butt. (To be updated with photo later.)
***
Update: