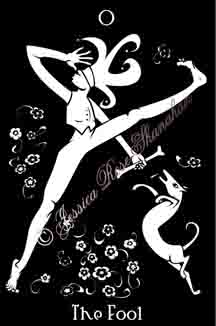 The fool has been sitting on my desktop for a few weeks now, waiting for an entry. At last I am ready. For those who have not noticed, I identify with the fool. In the tarot deck, I relate the fool to the concept of beginner's mind—
 "In the beginner's mind there are many possibilities, but in the expert's there are few."
     —Zen Master Shunryo Suzuki
Beginner's mind is useful to help us learn. There is a famous zen story—
Empty Your Cup
A university professor went to visit a famous Zen master. While the master quietly served tea, the professor talked about Zen. The master poured the visitor's cup to the brim, and then kept pouring. The professor watched the overflowing cup until he could no longer restrain himself. "It's overfull! No more will go in!" the professor blurted. "You are like this cup," the master replied, "How can I show you Zen unless you first empty your cup." 
The Major Arcana can be viewed as the story of Fool's journey through life. The Fool, at the beginning of his journey, has unlimited potential. With a mind uncluttered by knowledge, he is ready to learn. Anything can happen. Opportunities await. The Fool does not mind the lack of concrete plan. The only thing he knows is that he is ignorant of what lies ahead. He looks at the world with curiosity and wonder, takes risks, and has faith. Thus, the Fool goes blindly forward.
In the process of trying to print this deck, I have played the Fool, as has my printer. Both of us have learned a lot. Both of us have lost a bit.
I gave him the specs for what I want. He said up front, "I can do it." He had a very positive attitude. So I had faith. I learned about layout for printing. I learned about paper, offset vs. digital printing, inks, the use of dies vs. cutting machines for corner rounding, machine error, and about thoroughly double-checking a proof before moving forward. And even tho he has been in the business for many years, he learned a lot about many of the same things.
After much effort, we thought we were at a place where my decks could be printed. I gave him a lot of money. He purchased paper. Then, something went wrong. The ink chips off the paper during cutting and corner rounding. The machine error is just a bit too great for the tightness of the design of the cards. In order to avoid an apparent break in the cards, the corners of the decks must be rounded by a machine he does not own.  Thus far, I have invested a huge amount of time and money and seen nothing worth keeping. Four months later, we are back to square one. In order to eliminate the above problems, the decks will perhaps cost me 30% more than the original estimate.
For those of you who have purchased a deck and are wondering where your money went, where your deck is, and whether I have absconded to Quebec to learn French and have my nails done, I apologize. I'm still in Vermont, my French is horrible, and my nails could use a little work. Plus, the deck is still on pre-sale with free shipping until the end of the month! If I quit now, I'm out more money than anyone, and all this new-found knowledge will have gone to waste.
The printer looked so sad after my visit yesterday. He felt, perhaps, the Fool inverted. The deck will be beautiful. I will be proud. You will see.