My younger sister was willing to pick a card, although she was not willing to ask a question. She likes this deck. I asked her what the picture made her think of. She said, "Not a thing." I think it's great that she specifically does like the colors and shapes of the deck but attaches no meaning to the image because it is too abstract. I have trouble liking something that I find too abstract to attach meaning to.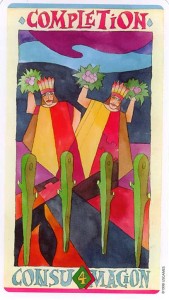 Interpretation: "Completion of work. Activity at a standstill, work unresolved. Union of equal forces."
I need to make a story for everything. Sometimes, the story is particularly boring. These people are cheerleaders, shaking their pom-poms of fruit and leaves because they are happy to be done with what they set out to do.
I need a clarifying question, as it is obvious to me that neither my sister nor I are accomplishing what we mean to be doing. "What is the purpose of procrastination?" I ask, and draw the Two of Cups, reversed.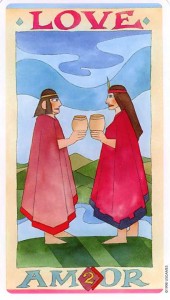 Interpretation: "Love, affection, relationship, courtship, friendship, marriage, pleasure, joy."
Procrastination happens when we do not love what we are supposed do and therefore we put off the task at hand by doing something we love to do more.
•   •   •
I somewhat do not like this deck, perhaps because the Little White Book totally sucks. The introduction starts out, "Argentina is a country brimming with esoteric possibilities. Our aboriginal mythology, rich and profound, always skirts around mystery, destiny and hope."
[…and finishes…]
"Bringing this deck of cards to the public is the satisfying result of a search for inner symbols. The Tarot cards came out of my imagination, and the drawings by Napo came as a result of the knowledge of the cycles of life. We thus immerse myth in history and find the same meanings, the same question, as in the Tarot of the Middle Ages."
Unfortunately, there is nothing in the book about what the esoteric possibilities of Argentina are, little mention of mythology or explanation of the symbols she used, no talk of what came out of her imagination, no mention about how she and Napo worked together, nothing. Mystery becomes uninteresting when there are zero clues. I'm glad she found her inner symbols. I am sure others of her culture understand the symbols of this deck better than I do. But because she does not help me relate, her symbols do nothing for me. Either that or I'm just grumpy because I'm really sleepy.