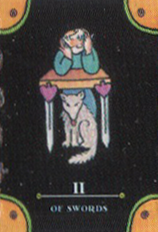 [This card measures about 1″ tall by .5″ wide.
I do not agree with the interpretations in this deck's book.]
Artist: Julie Paschkis
Author: Dennis Fairchild
"Boy or girl?" I asked. I drew the Two of Swords.
The Two of Swords indicates difficulty making a decision between two seemingly balanced sides, forces or ideals. My question has nothing to do with a decision; there are simply two balanced sides. It was a stupid question. Either/or & yes/no questions just don't fly with the tarot deck. The baby is most likely either a boy or a girl. I do not believe the tarot can tell the future or reveal the unknown. I don't want it to. I just wanted to be able to say something like, "This is a real masculine/ feminine card. It will be a boy/ girl." Exactly. Anyhow, I think it's a girl. I've thought so since the start. There. I've said it to the world. Of course, I could be wrong. That's perfectly fine. This tarot card adds nothing to the situation. I will learn the answer in a month.