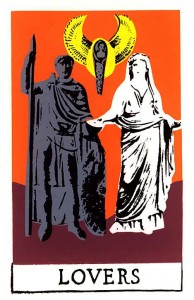 Artist: Susan Kay Topa
I like to keep my requests of the tarot deck simple. That way, the results are easier to interpret. It is when we request too much from tarot decks & life & such that things get confusing. So I said, "Give me peace—" not that I feel as if I am without peace— but just that peace is one thing we can always use more of. The deck showed me the Lovers.
The Lovers represent trust, harmony and divine union. Lovers are connected by Soul. This card does not necessarily represent a relationship between two people. The highest form of love is divine love. This manifests itself in as many ways as there are lovers of divinity.
Lovers of divinity know what they stand for. They are not the ones whose voices proclaim loudest their devotion to god— god defined here as the Lovers' definition of divinity. Lovers are ones whose actions are truest to their beliefs. They are genuine.
I asked a good friend once why she believes in god. She said because all the people she admires most believed in god. Famously: Mohandas Ghandi; Mother Therisa; Albert Schweitzer; Martin Luther King, Jr.; His Holiness the Dali Lama. Not so famously, hundreds of others who lay low and do work behind which divine love is the driving force.
Despite numerous "holy" wars— despite "religious" countries rife with civil unrest— despite Joshua— true divine love is the abode of peace.