Despite the fact that we had nowhere in particular to go, we didn't manage to leave the house until nearly three in the afternoon. The goal was to find Linda's missing gift.
We walked through the field, down into the woods to the place where Iris first showed me the ornament. It was not there. We walked to the near side of the river where we had crossed. No ornament. Then, because we could not cross the river— there was more water and less ice— we bushwhacked down the easterly side of the river in search of an alternate crossing.
At the mouth of Bridgeless Brook was a mass of stuff: a large culvert lay perpendicular to the shore with up-rooted trees, ice and rocky mud all in a jumble amid the water flowing into the Coaticook River. We had found a new crossing spot at last! I tried it out myself first. I crossed a jumble of organic matter over sub-freezing water, walked along the culvert, grabbed something long & logish, inched out on a large protruding log & tossed the smaller log so that it lay across the remaining ice and water between me and the far shore.
"You can do it!" I said, and they came. And they did it. With a helping hand here and there and one final toss of the kids over the last bit of river, we all crossed Bridgeless Brook.
Iris & Akiva on the far side of the river crossing—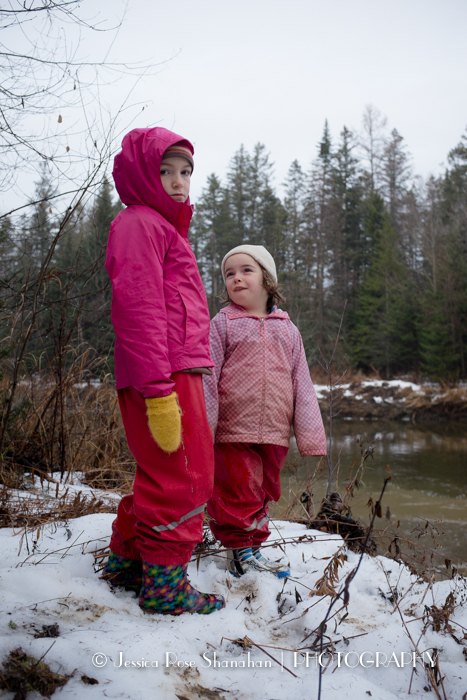 Where we crossed the river—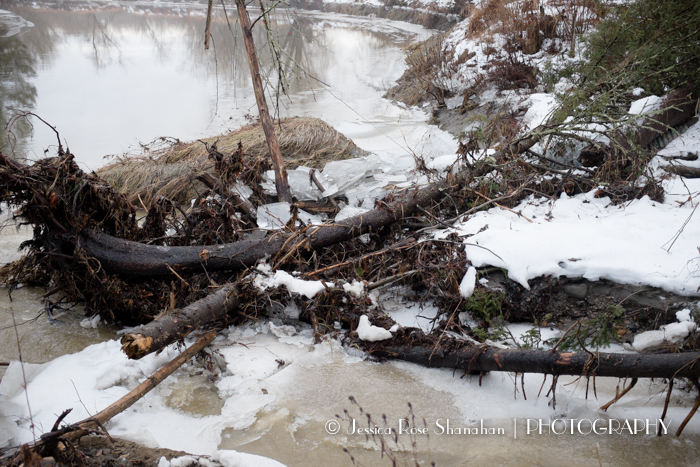 Once on the far side of the river, the hunt for the missing ornament continued. We walked to the far side of yesterday's river crossing. No ornament. We followed our bushwhack back to the washed out concrete bridge. No ornament. There we met a man named Pierre-Luc. He happens to be part owner of the property. We chatted with him for a bit, then walked through the field, across the street, and followed the path to the school. No ornament.
"There's one final place I really think it might be," I said as we re-traced our footsteps to the location of last night's party. And there it was! There it was, hiding shyly in the fading daylight and all soggy in the snow, right near where we had put down our backpacks by the bonfire! Oh, were we happy.