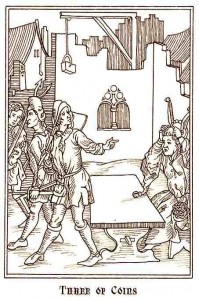 Artist & Author: Brian Williams
I ask: "Where am I going with [this situation]? How do I progress?"
Excerpt From the Book of Fools:
Divinatory meaning:
Great plans, big setback.
Architects, builders, and workmen mean: anguish.
Constructive ambitions, ambitious constructions.
No monument is built without delays and obstacles: success requires risk.
[…]
Von narechtem anslag — Of foolish designs:
"He who would build without regard
Of what costs are required
Will find himself at the end before he begins."
The Three of Coins sends encouragement. Dreams are made real with persistence, determination, and effort. Teamwork is essential. The knowledge and experience of my partner is needed. There is no superiority. Feedback and input are important to continually improve.
Oh! But this is exhausting!