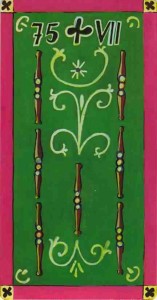 Artist: Rudolph Pointner
Martin asked, "How will the birth go?" and pulled this card, last seen here a week ago. Suitable one-card answer for a birth, I suppose. It will be challenging. I need to persevere and not give up. At times things may seem impossible. The trick will be persistence without struggle.
Despite the fact that I like to think this experience will be easier than I think, I do not think it will be.