I applied to be a pattern tester for the small, indie pattern company "Twig + Tale." I thought it would be fun! It wasn't bad, but I did feel slightly taken advantage of.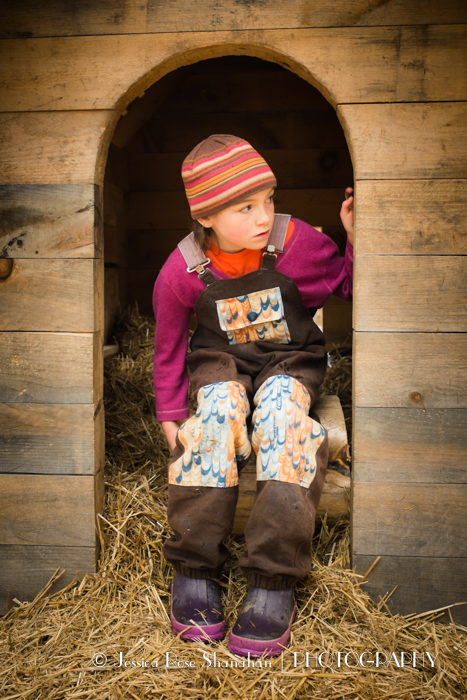 The pattern I tested was "Rain Overalls." I was in the 3rd & final round of testing. I made a pair in canvas, then I waxed them. The good thing about being in the final round is that, by this time, the pattern really ought to work & you're not just sewing up something that you probably won't be wearing. They probably chose me for the finals because I can take nice photos. They want nice photos so that they can sell their product. That's their m.o.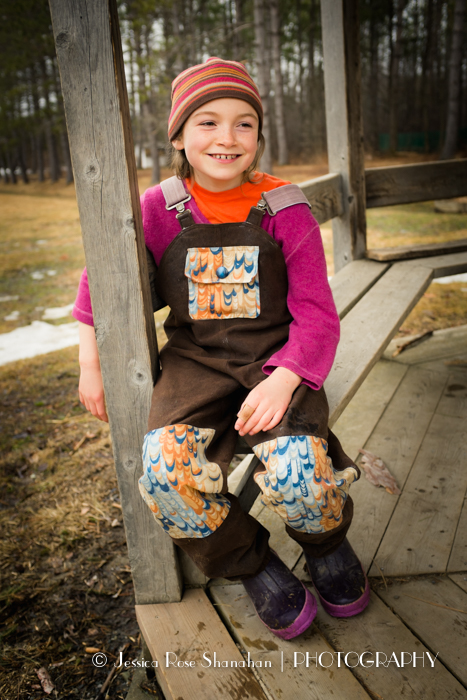 The bad thing about being a pattern tester is that you can't get a dozen or so opinions of other people who have made the pattern & get some ideas as to what to do differently. This pattern, like most patterns, is far from perfect.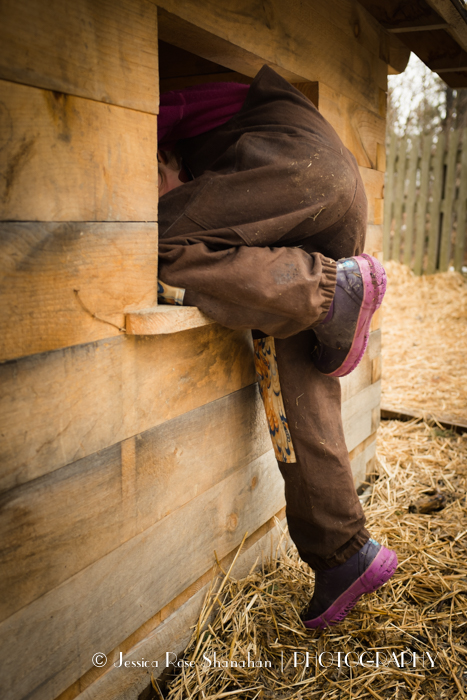 For one, there's the straps. I knew that right away. Instead of making totally elastic straps, I used elastic for only part of the strap. I copied the format on my old Carhartts, where they used a small bit of elastic on the front of the straps. I also took the buckle off my old Carhartts. If I'd had some future-sight, I'd have put a mere two inches of elastic at the back of the overalls & made the rest of the straps from canvas.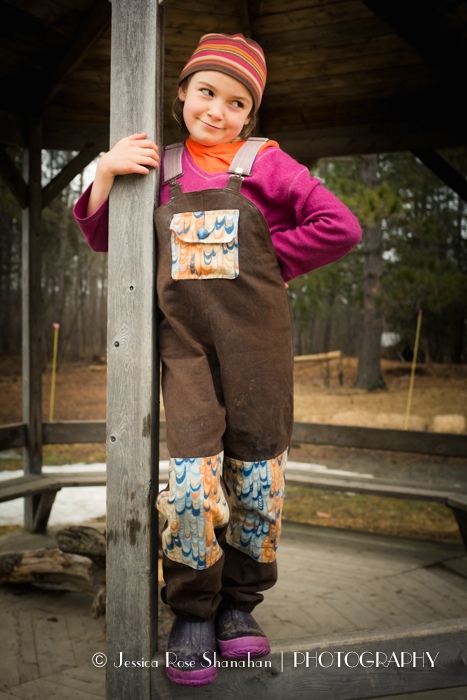 Next, there's the lining. I don't have any photos of the lining. The lining is huge and horrid. Who would ever design overalls with such a huge and horrid lining? Ugh. It would be better to put bias tape on the inside of the coveralls. Or just a teeny lining. I hate the lining. Iris hates the lining. I'd cut it out, but I haven't gotten the nerve yet. Everything is finished so perfectly that I don't want raw edges on the inside of the garment. But there's nothing else that could be done about the lining at this point! I've sewn it in & double top-stitched it and waxed it. The only way to get rid of it would be to cut it out. I know: a person wouldn't notice from the outside. I would know!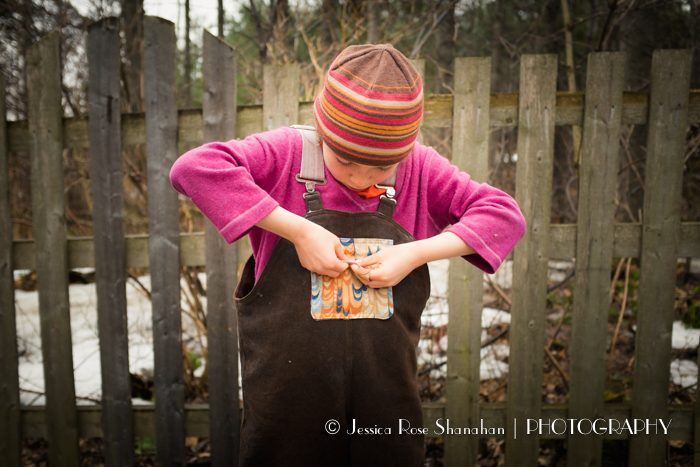 Then there's the elasticized cuffs. After breaking a bodkin, a safety pin, and an elastic puller, Martin invented a tool for me to insert the elastic into the cuffs. It was a sort of a spring & a sort of a wire. I think he said it was part of a plumbing implement. And this is why I love Martin! He may not be certain why on earth I'm doing what I'm doing and why I spend so much money on my hobbies, but he's always willing to invent something useful to help me out.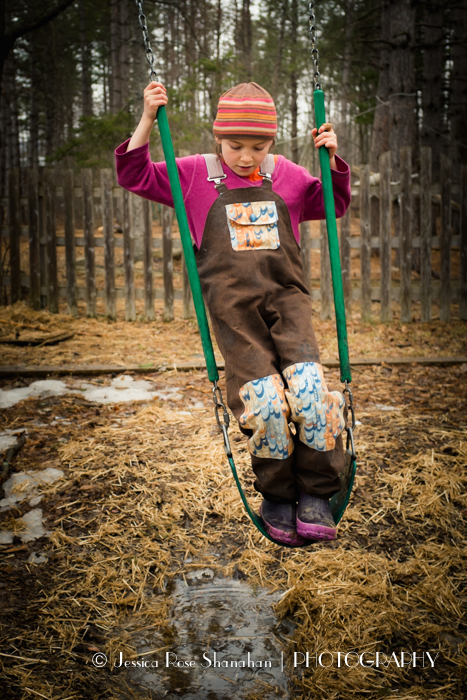 The final bad thing about being a pattern tester is deadlines. Sew the pattern by this date. Submit photos by this date. What? I had one week to sew and photograph these coveralls! All the stores were closed due to COVID. I happened to own the materials (brown canvas, a sample of cotton-linen fabric to use on the knee patches & kangaroo pocket), but I ran out of brown thread. I met a friend in the middle of the field, by moonlight, to receive some white elastic, which I proceeded to dye brownish. I had to cut the buckles off an old pair of my own coveralls, as I was incapable of buying anything. And, oh, school's out, take care of the kids and do everything else you always do. What do you get for it? The pattern you already sewed! Humph.
I realize that the pattern makers did not have waxed canvas in mind when making the pattern. However, Twig + Tale is a pattern company that encourages the use of natural fibers and upcycled materials for consumers sewing their patterns. For this reason, they must have been able to foresee that some loony mama was going to sew her kiddo a pair of waxed canvas rain coveralls. Waxed canvas is heavy. Waxed canvas is sticky. A pattern made for waxed canvas would generally be amenable to synthetic, light-weight waterproof fabrics, but a pattern made for synthetic, light-weight waterproof fabrics does not necessarily work well at all in waxed canvas. Because of the mission of Twig + Tale, I expected more from them. Alas! Alack! Such is the life of a sewer (ˈsō-ər).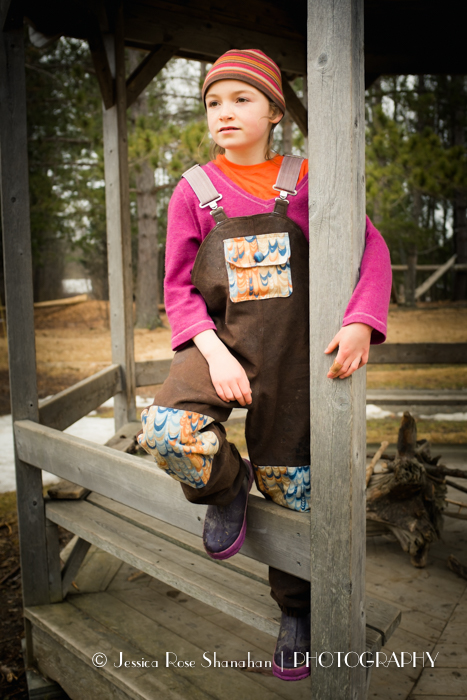 Anyhow. I had a good excuse to insist Iris do some modeling work for me. She's good! Plus I got to use a beautiful glass button from the Magical Button Box. Thanks, Mom!