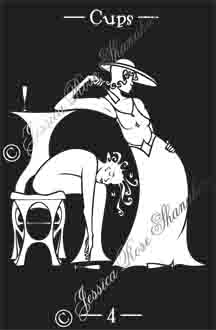 When I first began illustrating this deck, I had no overall knowledge of the tarot deck. The cards seemed to all have random and varied meanings. I searched through one deck after another looking for cohesiveness. I couldn't always see how the meaning of the card was depicted in the image, and many of the images within a single deck seemed incredibly similar. I was ignorant, of course. Sometimes wonderful new things come of ignorance. Other times, experienced people are just confused by the ignorance of others. I hope my deck contains more images which evoke the former sentiment (wonder) rather than the later (confusion).
When I finally came to understand this card, it meant boredom or dissatisfaction with the status quo. The women in the image are disengaged, apathetic, disappointed, and unmotivated. There is little that excites them. They have become withdrawn and sulky, stubborn, ungrateful and self-absorbed. They neglect the needs of others and think only of their own wounds.They are falling out of connection with society. They wallow in self-imposed isolation. They have dropped their glasses. Their psychiatrists have diagnosed them as depressed.
In order to overcome this situation, they need to be alert and open themselves to new experiences. It is time for them to turn inward & examine their own minds to find out what disturbs them and to gain clarity. Research and meditation may wake up their minds. Exercise, fresh air, and healthy food are also useful.
Do not let time slip away! Life is precious. Nurture it. Take note of every-day abundance. Notice what you have. Open your eyes and be thankful!