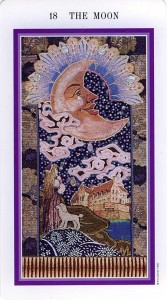 Art (collage, appliqué, direct dye, beading, color image transfer & cloth): Amy Zerner
Author: Monte Farber
Interpretation: "This is the darkness before dawn. You must separate illusion from reality. Even though the path may seem frightening and treacherous, you need not fear the mysterious unknown. Your intuition can guide you to hidden opportunities. Remember to save your energies for the challenges ahead and not to squander them with anxious worrying."
This girl is me, woken up in a blue-black faraway dream where everything is cold and weary. I am very tired, which is unjustifible, as I have done nothing that should make me feel thus. I am not afraid. There is no anxious worrying. The path does not seem treacherous. The only illusion I held was that I could accomplish more than I am able. That has been smashed. The truth is, I don't have to take anyone's advice on how to interpret this image: I asked the deck for a sleepy card.
I look outside.
This night's sky
bears its waning gibbous moon
for me to sleep beneath.