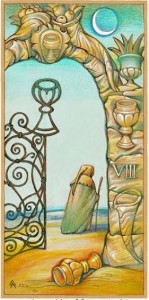 Learning to Leave Behind Things that have Ceased to be of Use
The summer of 1993, when I was 20 years old, I exited the Benjamin Rush Recovery center in Syracuse, NY, where I had been an inpatient in the Eating Disorders Unit for five weeks. As much as I hated it there, I was terrified to leave. The remission rate for eating disorders is dismally low.
The previous semester in college I had: received a perfect 4.0 in all classes of my double major of English and Biology including the dreaded biochemistry of which I honestly had little interest; joined the cross-country team, earned myself Rookie-of-the-Year, MVP, and raced the national championships; and published poetry in a snooty magazine. I had also been bulimic, among other things, throwing up between eight and twenty times a day. I was a physiological, psychological disaster.
Upon leaving the recovery center, I moved into a little room with a hole in the wall in a moderately large house in Oswego, NY, where I lived unsupervised by doctors, nurses, and shrinks. I gave myself one allowance and one rule: I could eat any I wanted, as long as I did not throw up.
Change takes a long time.
It was ten years before I allowed myself to say, "Okay, maybe I shouldn't eat just anything." Since then, I have been exploring ways to heal and recover through food rather than in spite of food.
I got better.
I think I am getting better.
Anyhow, I thought I was getting better.
I was recently diagnosed with Graves Disease. My visit with the endocrinologist was more or less an explanation of a handful of ways to destroy my disobedient thyroid. Shocking, really, as I feel more-or-less okay other than chronic insomnia and lethargy and stinky farts. Why would I want to get rid of my thyroid? Why can't we all just get along?
Some people have managed Graves Disease through diet. It means a lot of rules. I wish I had an expert to guide me. Nonetheless, I am going to try.
Healing means:
learning to leave behind behaviors which have ceased to be of any use
and finding new behaviors to fill the void.