Artist: Yuri Shakov
LWB*: Stewart Kaplan
Interpretation: A studious and intent person. Reflective. Meditative. Loyal. Willingness to offer services and efforts toward a specific goal. A helpful person. Trustworthy.
[I think, from now on, if the LWB is completely at odds with how I generally view a card and has nothing in particular to say about a deck itself, as in this case, I shall cease to quote it, as it adds little to my insight.]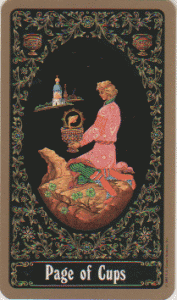 I love the Page of Cups. When my mom saw the image I drew for the card, she said it reminded her of Alice in Wonderland. Wonderful! The Page of Cups is my not-quite-rational, dreamy inner-girl-child. She reminds me: Be open to the unexpected. Listen to your intuition. Never cease to dream. And she reminds me to take a fresh perspective— a child-like view— when faced with difficult issues.
A couple of days ago I told my Big Sister I am going to have a baby. Six months is rather far along for just telling her, but we don't talk often. I didn't know how to bring it up sooner. I was afraid of feeling judged in one way or another. When I told her she said something like, "WHAT? Now you'll be Mom's favorite forever and ever." Which is silly and she knows it isn't true: I'm just Mom's most huggable child. I will have Mom's favorite grandchild by default: there are no others.
Having a child sets my sister and I down incomparably different paths. She is on the successful-career path and has succeeded, whereas I never quite tried hard enough. I am suddenly, after many years of much goofing-off, on a path of motherhood.
Today when I pulled a card, I remembered to ask a question: How does [my Big Sister] really feel about me having a baby? The answer is: the Page of Cups. Keep an open mind. If I expect a certain reaction, I am more likely to get it. If I expect to be judged, I will feel it. On the contrary, if I am able to be playful, to be open to unexpected feelings, to admit the possibility of a positive change in our relationship, I am more likely to be pleasantly surprised.
*LWB= the little white booklet that comes with most tarot decks
and tells, quite briefly, what each card is about