I began the image for my Hierophant card long before I read Questioning the Ramayanas: a South Asian Tradition, edited by Paula Richman. If I had illustrated it afterward, the essence of the picture would have been the same, only perhaps with the poor old Shabari with her arm looped over god-king Rama's shoulder.
Before I encountered the tarot deck, I had never heard the word "hierophant," so I looked it up. The word comes from the greek combination of ta hiera, "the holy," and phainein, "to show." Traditionally, the Hierophant interprets sacred mysteries and arcane principles. I understand the Hierophant as one who demonstrates holiness and brings others closer to god.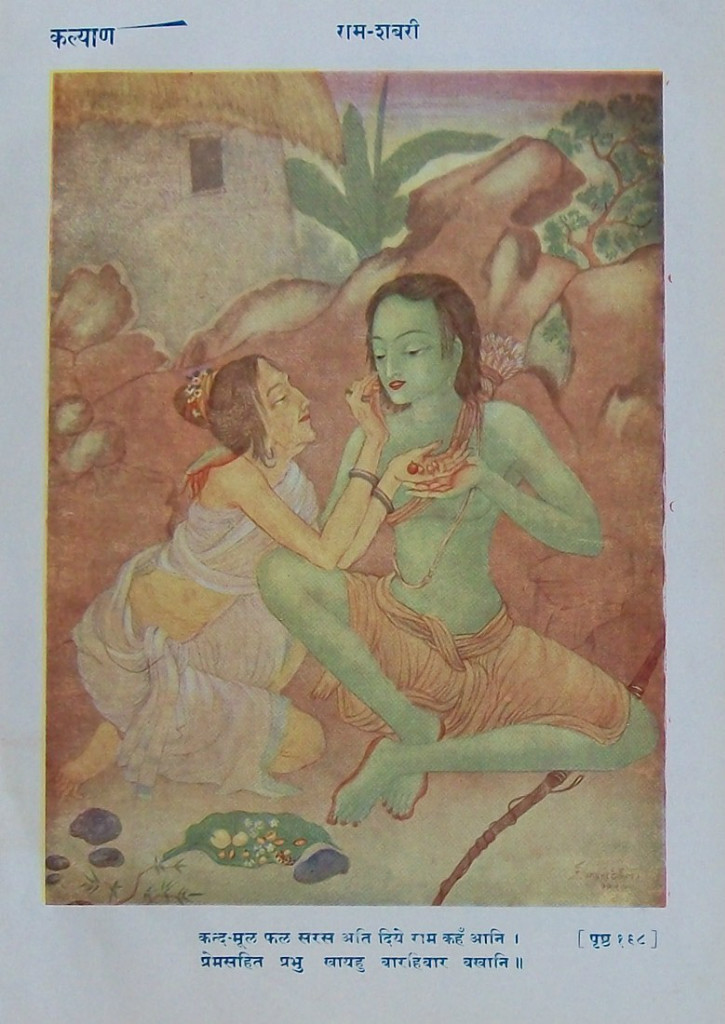 To make a very long collection of stories very short, the divine Lord Rama spends a lot of time wandering the forest in exile. One story in his wanderings concerns an old woman named Shabari.
Shabari is a low-caste woman who has escaped marriage and exiled herself to the edge of a community of forest-dwelling ascetics. She keeps herself hidden. At night she sweeps the paths an deposits firewood outside the doors of their hut and the men say, "Who has done this?"
Their Guru instructs his students to stay awake and apprehend this "thief" who is stealing their merit. So they capture Shabari, who falls at the Sage's feet in devotion. The Sage realizes she something special and invites her into the ashram. The aesthetics take offense at this. When the Guru dies, he promises Shabari that she will see Lord Rama in her lifetime. Disconsolate, it is this knowledge that keeps her alive.
With their Guru gone, the aesthetics get nasty. When one accidentally brushes Shabari as she is sweeping the path to the lake, he berates her for polluting him. When he gets to the lake, he finds it has become polluted with blood and vermin. He blames it on that unlucky woman Shabari instead of his own unclean actions.
Every day Shabari spends a great amount of time collecting wild jujube fruit from the forest to serve to Lord Rama in case he should happen to stop by. Jujube are uncultivated. Some are very sweet & some are quite sour, so Shabari tastes each one to make sure it is sweet. Only the sweetest for the God-King! In Hindu tradition, there are clean foods and there are dirty foods. A food tasted by a woman, and a low-caste woman at that, is excessively dirty.
Every day she waits, but when she finally hears he is coming, she hides in her hut. Of course he seeks her out. She prostrates before him; he lifts her up. Her sorrow departs and she feeds him fruit. He eats and praises it.
Meanwhile all the aesthetics are worried about the polluted lake. Someone suggests they ask Rama for a solution when he gets there. Oh, they learn he is already there, and sitting in the hut of that woman!
Their pride is shattered. They go to the hut. Rama instructs to the men to touch Shabari's feet (yuk! dirty!) and bring her to the lake. When she touches the lake, it is once again clean.
This story challenges all Hindu concepts of purity and pollution, ultimately showing that the purest thing is unsullied devotion. The god-king Rama has visited Shabari first not because she follows all those strict rules of being— the highest of which is being a man of high birth— but because she is the most devoted.
The moral of my retelling is this: That which brings one closer to god is not following arcane rules and mysteries, but unwavering devotion and love demonstrated through thought and action. Gods love best those who love them best.