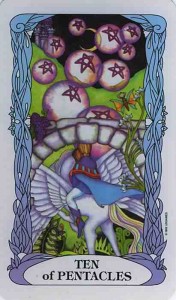 Artist: Karen Marie Sweikhardt
Tell me something about my relationship with the wilderness, I asked,
and drew the Ten of Coins, reversed.
Here with a Loaf of Bread beneath the Bough,
A Flask of Wine, a Book of Verse—and Thou
Beside me singing in the Wilderness—
And Wilderness is Paradise enow.
— The Rubáiyát of Omar Khayyám, translated by Edward FitzGerald



The Wilderness is all the riches in the world, unspent. The Ten of Coins reversed betrays poor resource management. The recent past of wilderness and human kind has been a fun relationship with no commitment on our side. Our side. All of us and not just me or you or him or her or them, them, them— I speak in plural, all of us, for none of us are here alone amidst the Wilderness. As humans, we are one— and one against the Wilderness, it seems, judging from our actions as a whole. Stability has been undermined. Vast wealth has been squandered. True lovers of the Wilderness weep with a sense of loneliness and loss. The wealth was there and it is gone, ill-spent, the future left unplanned, our children wildland-impoverished. Only the wealthiest of all have found a tree to sing beneath amidst the Wilderness— and know that Wilderness is paradise enough.