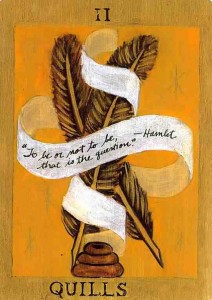 Artist: Cynthia von Buhler
Author: A. Bronwyn Llewellyn
Interpretation: "This card signifies vacillation between opposing points, weighing seemingly equal possibilities, procrastination, or struggling with a dilemma."
Doing something one is used to doing is not so difficult. Being in a difficult situation and changing one's habits is very hard for most of us mortals. It becomes easier as the situation becomes dire. The sort of yoga I do daily is no longer good for me. Most everything hurts. Thus, I no longer do yoga. Not doing yoga is not good for me. My request of this deck was, "Tell me to do yoga." The deck tells me, "Find something good for your body and do that." I need to learn something new. But where do I look? How do I begin?
[I draw a second card.]
Interpretation: "The Magician is the communicator, creator, achiever, and shape-shifter. Drawing upon his wisdom and determination, he commands the forces of the universe and shapes them into a new reality. Originality and sheer willpower fuel his conjurations. […]"
The bard hath spoke!
Get off your arse and get to work.
Be not some dumb puppet—
be your own puppet's puppeteer.