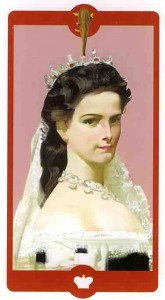 Artist: Frenec Pinter
I wish I knew which queen this image portrays. She should be strong, confident, a bit manipulative with her amazing amount of positive energy and charisma, and determined to get what she wants. Unfortunately, I wouldn't recognize her even if she was currently famous, let alone historically famous. Anyone less clueless than I am?
I did not ask a question today. I hoped the card would inspire me to write. Unfortunately, I don't think I like the Queen of Wands right now. Not this one. I don't like how she looks at me as if she's better than me. I don't like her clean-ness, her white-ness, her lace and perfect hair-ness. I prefer the New-Age Tarot's big-foot, multi-breasted, four-armed, three-faced, double-helix-bodied Queen of Wands who dances on an Earth of arms and eyeballs. She makes me feel so normal.