I am trying to learn to read tarot cards with unillustrated pips (minors) by merely reflecting on the geometry and colors and whatnot scribbles in the card. My favorite is the Tarot Piatnik Wien, which has beautifully colored un-illustrated pips.
I ask the deck to help me free my mind and learn to read unillustrated pips my own way. I draw at random one card for study. Valet de Baton. I am looking for numbers only, no people, so I draw another card. Valet de Denier. My third card gives me Troi de Epees, so I stop here and lay them out in a row.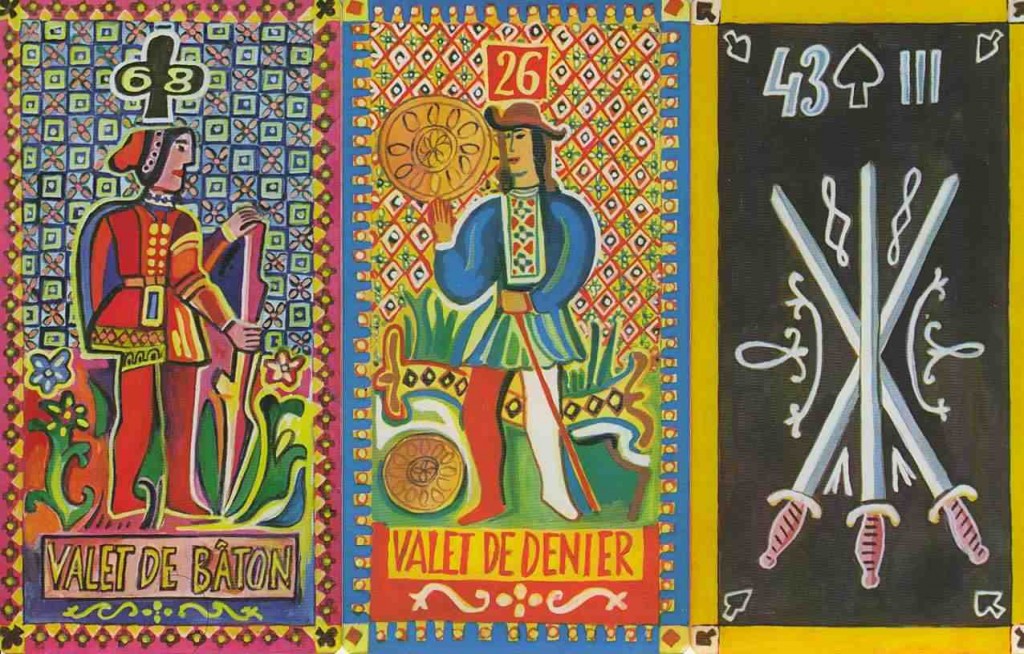 The Valet de Baton wears his fancy buttoned uniform in a field of flowers. The colors are warm. He kind-of reminds me of a British redcoat. He seems as if he is pondering something, tho not something unpleasant. According to the dictionary (one of my favorite references,) a valet is a man's male servant who performs personal services. I think of batons as sticks. Sticks are natural things that come in all shapes and sizes. They are no longer living. This man is the Valet of Sticks, so he performs personal services for the natural world and those who love it. He likes to be outside doing stuff, but because he is immature, he does not have a great sense of direction in life in terms of what he wants. He knows what he should do, and he knows what is in his line of work, so, in general, he does what he is told. But because he loves the natural world so much, he also loves to explore. This leads him wandering down unexplored paths at inopportune times.
The Valet de Denier wears his fancy flower-embroidered uniform near a diamonded fence. He is a young man who performs services for money. Any blue collar worker (and he is blue indeed) can relate to this. He holds a big coin in his hand as if to say, "Hey! I just got my paycheck!" I think he is eager to learn what kinds of things he can do to make money. Until he matures, he might not care so much about the ethical side of the work he becomes engaged in. He knows that money is powerful but he isn't sure why.
The Troi de Epees is black with a yellow border, as are all the epees in this deck. I call them blades. The backgrounds of the blades remind me of chalkboards, and the squiggly designs remind me physics equations or something I can't comprehend.
What this says to me about my ability to read pips intuitively is this:
Like the Valet de Baton, I often run off into the woods without a proscribed trail. I do like to follow trails, one after another, but I do not know where I am going and I don't necessarily care. I simply enjoy the woods.
Like the Valet de Denier, I hope to find a tiny bit of worldly success off what I do. But the success I will have at relating to plain pips in a worldly manner without outside influence will be mighty small. However, I know an awful lot and I can learn put it to use.
Finally, if I expect to be able to find insight using the pips alone without outside reference whatsoever, I will find nothing but blackness, indecipherable scribbles, and frustration illustrated on the Troi de Epees. This is but a small failure: a normal, every-day failure that occurs when one is not interested enough in the task at hand.