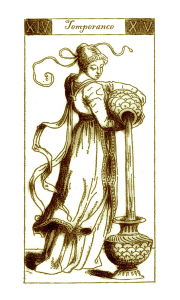 Artist: Giovanni Vacchetta
After I finished the last illustration for my Tarot of the Absurd a few weeks ago, I started contemplating publishing options. I would really like to find a publishing company to help produce it well and help market it. I am interested in fine quality cards that will stand the test of time. Eventually there will be a book to go with it.
There is a print-on-demand game site on line called The Game Crafter, where people who like to make up games can find all sorts of game parts and design a game and have it printed for themselves and others to purchase and play. A few people have made tarot decks on poker-size cards. The site just started offering larger-size cards for tarot. In order to check out the quality and pricing, I re-produced an old historic deck originally illustrated in black & white by Giovanni Vacchetta in 1893. It has been in-&-out of print since then. I produced a sepia-toned copy with words in English. It is perfect for hand-coloring, should you be so inclined, and available for purchase here: https://www.thegamecrafter.com/games/giovanni-vacchetta-tarot
"What should I do about publishing my own deck?" I asked my new-old Giovanni Vacchetta tarot, and drew Temperance.
Favored: Balance, moderation, patience, purpose, meaning
Opposed: Imbalance, excess, lack of long-term vision
Temperance is about moderation and self-restraint. Balance, patience, and avoiding extremes— especially important in situations of stress or anxiety— all lead to a sense of calm and a place of peace. Walking the middle road— the way of tranquility— leads to an even temperament and a fulfilling life.
Temperance has a clear, long-term vision of what needs to be achieved. Refusing to rush along, Temperance takes its time to learn along the way. The way is peaceful, guided by an inner voice which cannot be heard amongst chaos.
Temperance works in harmony with others, combining forces in a beautiful synergy of talents, experiences, abilities and skills. Always needed during periods of transition, Temperance asks for patience to act with good timing and precision. Change is essential for learning and accomplishing anything. Temperance lets us know there is nothing to fear.
Temperance tells me: "Stick to your focus. Take time to work hard. You have spent 13 years illustrating your tarot deck. Do not rush into printing it without thorough research. Everything will come together beautifully in the end."