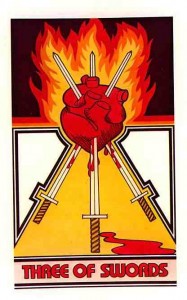 Artist: Jim Odbert
From the LWB*:
Meaning: Sorrow; strife in love.
Reversed: Disarray in love affairs; caution against loss.
Again, the same card two days in a row. I said, "Tell me something about printing my tarot deck." I am really looking for advice. I got a few estimates. I have to decide how many decks I want to print, what size the deck should be, how to package it, and (especially) how much money I want to spend up front. I'm beginning to settle on a limited edition of 500 signed and numbered copies. I would kinda like to package them in a folio-type cover, tied closed by ribbon, designed & stamped. It would take a while to make those folio covers, tho. The printing company I'm thinking of going with doesn't seem to make card boxes, but they have a reputation for very good card quality and they do small runs. I'm horrible at marketing.
So anyhow, I drew the Three of Swords reversed which, according to this little white book, can mean "caution against loss." I can't think of what that might refer to other than loss of money. I'm really pretty paranoid about losing money in this endeavor. I've already spent so much time drawing the pictures. I mean, I guess it just might not get as spectacular reception as I've hoped. That would feel like a loss. Or sorrow. What about sorrow is not loss or loss is not sorrow? I do hope for a lot in terms of what others think of my work, but there are so many people and so many opinions. Like color? Not this deck! "Traditional" tarot symbolism? Not much here! Conformity? Forget it! But if you want some new ideas, a new way of looking at things, I have a story to tell in rich black and voluptuous curves and eventually, some day, words.
Anyone out there who wants to tell me what they really like in a deck and how it is packaged is more than welcome to (please) let me know!
*Little White Book of Possibly Arbitrary Meanings