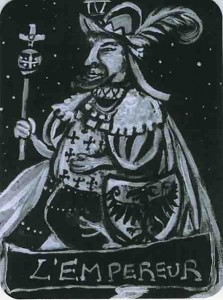 Artist: Robyn Tisch-Hollister
Waiting for this baby, I say, "Teach me something about patience," and draw the Emperor, reversed.
Mr. Emperor. I've always had trouble with you. You would show up reversed. I have trouble dealing with authority. Yeah, so what? That's because people in "authority" often take it instead of earn it. I have no patience for such people. I had issues illustrating the Emperor card: I have trouble seeing anything other than his domineering and controlling manner. Supposedly, the Emperor can be a nice, fatherly figure to the whole deck, but I haven't seen it. They say, upright, he sets his long range goals and has no problems with patience needed to achieve them. What foresight! What planning! What control. What if I don't agree with your plans, Mr. Emperor?
Patiently, I wait for Baby to be born. According to my initial divinations, the apple will fall from the tree during the 2nd week in April. Modern technology has thrown my own mathematics for a loop. The ultrasound technician— who was not there for conception— says I'm due last weekend. Although I seem to have no authority over my own body, the situation isn't bad. Patience is the only thing I need. In the grand scheme of things, that is asking very little. I should upright the Emperor and learn to see him as the baby's father. Perhaps then I could learn to love the Emperor.