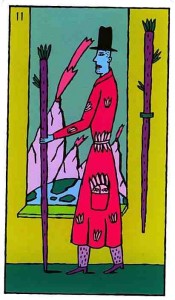 Artist: Kitty Kahane
I shuffled this deck thinking about a person I don't know but whom I admire. She's an artist; I will call her Beaux-A. I draw the two of wands, reversed. The reversed Two of Wands represents fear of the unknown and lack of planning. Ultimately, I don't know if the card is for her or for me.
On one hand, Beaux-A represents qualities in myself that I wish I could express. In this light, the Two of Wands points to the fact that I have failed to express myself sufficiently due to fear of the unknown. The arts seem to me to be a profession of insecurity for the majority who rely on them as a means of support. Thus, I avoided relying on arts as a way to make a living.
On the other hand, Beaux-A seems to have a bit of trouble having enough money to pay the all bills. I could say for her this represents lack of planning, but as I said, I don't know her. Just because she didn't plan for monetary security doesn't mean she didn't plan. When it comes to arts, money is the only thing that can't be planned. Monetary insecurity was exactly my fear, and thus the reason I have always supported myself by means of manual labor. Labor never payed well, but the pay was consistent*, leaving me to play around in my brain on my own time.
I'll try another tactic: an intuitive reading based on the card image. A man in a bathrobe walks in front of an open window at one edge of the earth. On the other side of the planet, a volcano explodes, shooting far, far into the sky, across the earth, knocking bowler hat off the bathrobed man. Molten rock coats him from head to pocket whereupon the lava flow collides with the sun and is vaporized. The man's top-half of the man is encased in stone, immobilized; the man's bottom half walks around sightless. This represents the dichotomy between blind conservatism caused by following the lead of that which one sees as "set in stone" versus the aimless wandering of leaderless legs whose only ambition is to keep moving. And the artist, Beaux-A? She's relatively safe, firmly anchored somewhere in the middle of the planet, far away from either the bathrobed man or the volcano. That's where I am, too. We're not so different, after all.
*The pay was consistent until I got pregnant then fired in rapid succession.