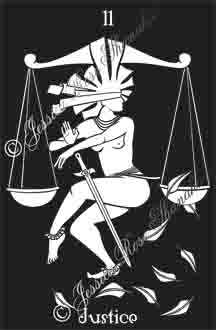 Justice represents justice, fairness, truth and the law. Justice resides within the ancient Egyptian concept of Ma'at, which contains the philosophies of truth, balance, order, law, morality and justice. Ma'at regulates the stars, seasons, and the actions and interactions of both mortals and the deities in order to prevent the universe from returning to chaos. Equilibrium is dependent upon Ma'at. Ma'at embraces all aspects of existence.
Ma'at is personified in the form of a goddess whose primary role in Egyptian mythology is that of weighing of souls of the dead on her balance scale. Those with good, pure-soul hearts that balance lighter than the feather of Ma'at go on to paradise. In other words, those of us who spend our lives upholding the concepts of Ma'at—  truth, balance, order, law, morality and justice— live happily in the ever-after. Maat is the application of Justice, not a list of rules.
Ma'at acquired her blindfold and sword and the name Justitia in Roman times. (Justice goes by many names.) The blindfold represents objectivity: Justice does not fear or favor; Justice does not heed big names or name-droppers; Justice does not fold before money or power. Justice has no weakness. She is blind and impartial to outside forces. Her double-edged sword may be wielded against either party in a dispute.
Ultimately, understanding of Justice differs in every culture— sometimes by a lot, sometimes by little. Culture is dependent upon shared mythology and history. A culture's values reside in and are reflected within its notion of Justice. Thus, due to cultural difference, there is no universal concept of Justice. Indeed, her sword has not just two sides, but as many sides as there are peoples.
Entropy hangs fine:
universe on one side,
universe on the other.