So. I went out in the pouring rain (um, it wasn't pouring when I left the house) with my hydrophobic, very very clingy two-year-old, my camera, my shutter release cable (my camera cannot take a remote), a rather small tripod, and a rather large umbrella, among other things. We went into the local woods. I wanted to get some nice misty woodsy slow shutter shots. My first 25 shots were completely black. By this time it was certainly pouring and I realized I'd forgotten Iris' raincoat. The biggest problem, however, was that I only have two hands: one for the camera, one for the umbrella, one for the shutter release, one for the toddler and— wait— that's already more than two.
My first few awesome-seeming shots were, as mentioned, black. Eventually I learned this was because, for some reason, the camera has a minimum shutter speed of 1/35 in Aperture Priority. Maybe I set it that way. So, after bush-whacking through stinging nettle and phototoxic giant hogweed, we came to my favorite secret little sand bar on the river. There I huddled under my umbrella with Iris and fiddled with the camera and the (stupid) shutter release and eventually figured out, more or less, what I was doing. I put the camera on fully manual and took a few lousy shots.
In theory, I should be able to leave the shutter on my camera open for 30 seconds, but I could only figure out how to get it to ¼ second, which left me using f5.6 when I really wanted f16. I hadn't thought of raising the ISO yet. So I took some slightly less lousy shots in the woods. By this time, I was carrying wet Iris in a wet carrier on my back and kneeling down in the mud my wet pants.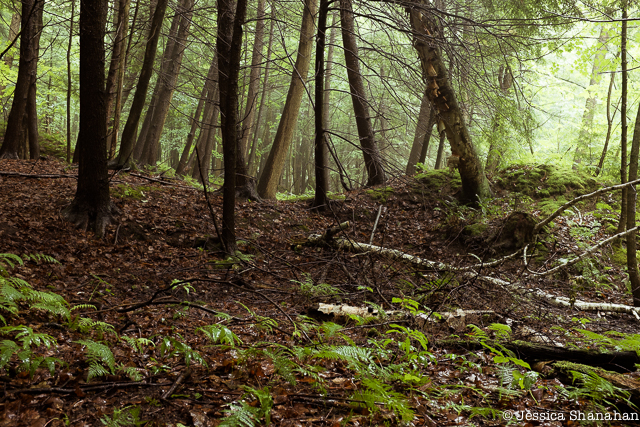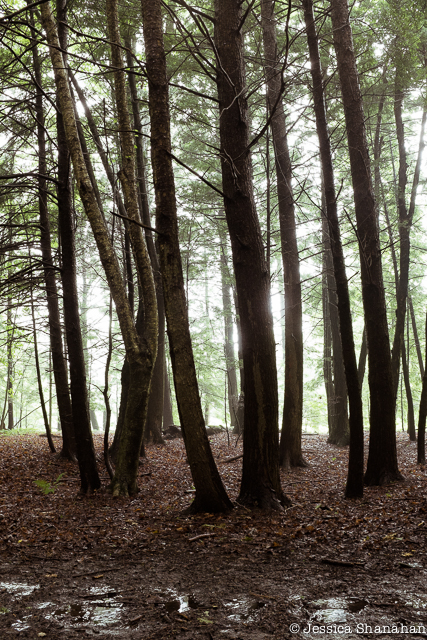 I went on in this manner for some time, taking mostly lousy shots until I came to the river again, where I set up my tripod in attempt to get that fuzzy water look. I took some more lousy shots in the pouring rain. They are generally slightly blurry everywhere, which I blame on either (a) camera shake or (b) rain. Did I mention the quantity of mosquitos?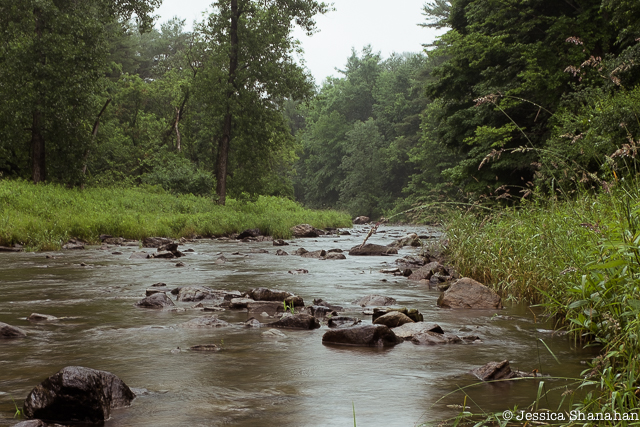 Then I carried Cutie and my loot to the stone bench, where I tried, at last, to take some photos of my adorable daughter who had briefly let go of my hand to pick her nose. Unfortunately, she wouldn't take her finger out of her nose until she needed it to wipe a blackfly from her eye.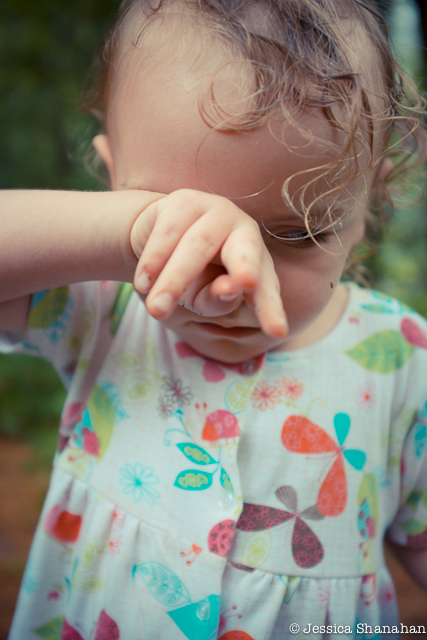 Then we went home. Amazingly, a good time was had by all, and the camera stayed more or less dry.